Have you always considered yourself to be a lucky person? Well why don't you come to test your luck on 5miles' Lucky Draw! 
You're probably asking, what is Lucky Draw? 
Lucky Draw is a 5miles new promotion event for 5milers to earn a $100 Amazon Gift Card! 
How does Lucky Draw work?
Every Wednesday and Saturday night at 8:00 CST, Lucky Draw will be drawn. If you win, you will be rewarded with a $100 Amazon gift card. And if I don't win? 5miles will refund you your 90 cents participation fee within 1-3 working days.
If your lucky number gets drawn, we will send you your $100 Amazon gift card within 48 hours via email and push notification, so make sure those are turned on
If you don't win, well better luck next time! You will be given two Lucky Draw numbers for your participation in the next week, which means you have increased chances of winning
How do I join?
Right now for a limited time, you can join Lucky Draw for free! So don't miss this opportunity! 
Under normal circumstances:
New users who sign up for 5miles receive 6 Lucky Draw numbers after paying a 90 cents participation fee. Old users receive only 1 Lucky Draw number, so new users have a higher chance of winning! How exciting is that!

In order to activate your Lucky Draw, you have to invite a friend to sign up for 5miles as well.

Every time you invite a friend to sign up for 5miles through Facebook, you will be rewarded with 10 Lucky Draw numbers. Each time you invite a 5miler who pays the 90 cents to participate in the Lucky Draw event, you will also be rewarded with a Lucky Draw number
Rules of Lucky Draw:
Each user can only participate or be invited to the same round once

The same user (including but not limited to the same account, mobile devices, etc.) can only participate in the same round of drawing once. Otherwise, the winning will be deemed invalid.
Well what are you waiting for? Go download and sign up for 5miles today and test your luck! Don't forget that the more friends you invite to participate, you get a higher chance of winning!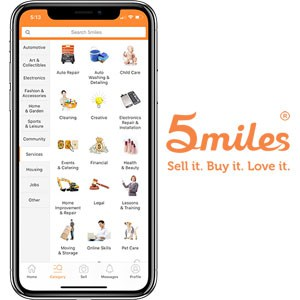 Test Your Luck on Lucky Draw!