The folks at BuzzFeed are ringing in the new year by asking their community what they do to shop smart and save money. Look who made the short list!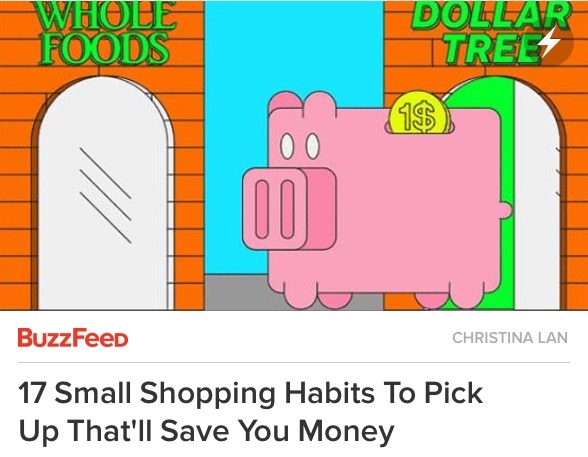 Take out however much cash you want to spend before you go shopping.*

Invest in high-quality, long-lasting appliances.

Don't buy Tupperware; instead, use the plastic containers you already get from the store.

Use the Shopkick app to help you score gift cards to your favorite stores.

When shopping online, use cash-back services.*

Hack your coffee order.

Stop spending money on "binge food."*

Get creative with the number of ways you can re-wear your wardrobe.

Only buy something that you'll use as many times as the dollar amount it costs.*

Grocery shop from least expensive to most expensive store.*

Match the coupons you get from a newspaper subscription to get BOGOs.

Use eyeshadow for eyeliner.

Start using cash-back credit cards.*

Switch to cloth diapers.

Stop buying expensive cleaning supplies.*

Download the

5miles

 app, a non-sketchy version of Craigslist.

Stop buying alcohol.
In BuzzFeed user aliciareneeg's words, "The 5miles app is a great way to sell old items and to buy new things at a fraction of the cost they would be retail." We couldn't agree more.
Which shopping tips or tricks do you use to save money in 2016? Let us know in the comments.
*5miles picks
Which shopping habits save you money? Chime in with this BuzzFeed list!