What is 5miles Dash?
5miles Dash is an auction feature that allows you to bid on new items. Our auctions last 90 seconds each and bids start at $1. So if you don't bid fast, you won't be able to get it! The best part about it is you only pay if you win the auction! We offer buyer protection if you're unsatisfied with a purchase so you can always request a refund.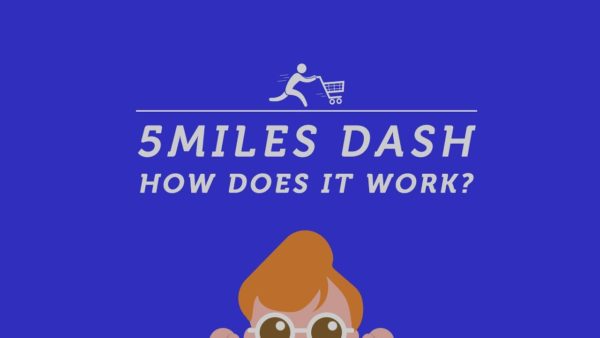 Now, let's get into it!
How does it work?
Bidding starts with a pre-determined opening bid amount while live shoppers place subsequent bids in real-time, which will increase the price. The viewing time for the item extends by a few seconds when a new high bid is placed. The final winning bid is the price the item will be sold. Each listing will indicate if an item may have an additional shipping price. 
Here is a button directory that shows the bidding status:
STARTING SOON means bidding will start in a moment. Watch for this to change to a BID button.
BID $_ means you can place a bid for the item at the price indicated.
OUTBID appears if someone has outbid you. You can try bidding again at the next increment.
WINNING appears when you've successfully placed a bid and you're currently the highest bidder. Keep an eye on the item to make sure no one outbids you. If they do, you can bid again at the next increment.
The progress bar under the button is a countdown showing how much longer the item will be accepting bids, along with "Going Once", "Going Twice" notices to place another bid.
Congrats, You've Won appears when you've successfully placed the highest bid and won the auction.
SOLD means that item has been won by the highest bidder and it is no longer accepting bids.
RESERVE NOT MET means the item had a reserve price which was not met, and the item did not sell. The next item will appear shortly.
CLOSED means the bidding time ended without a valid bid being placed and the item did not sell. The next item will appear shortly.
I won! What's next?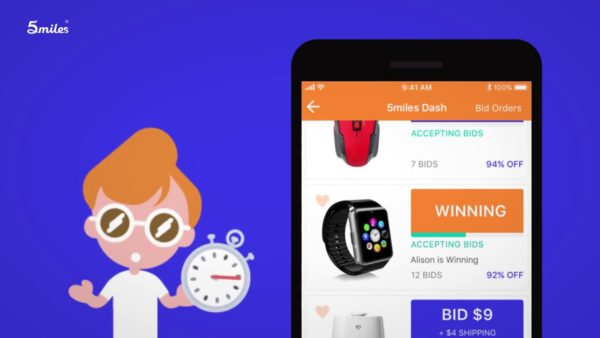 Congratulations! You won an auction item! The next step is to pay for the item!
To pay for the item:
Choose a

Size/Color

or any other options if available.

Click

Next

then add your

Shipping address

– Be sure to verify your shipping address as this cannot be changed after the order has been processed.

Click

Next

to enter your credit card details, or select a card on file. 
It's as simple as 1, 2, 3! Give it a try!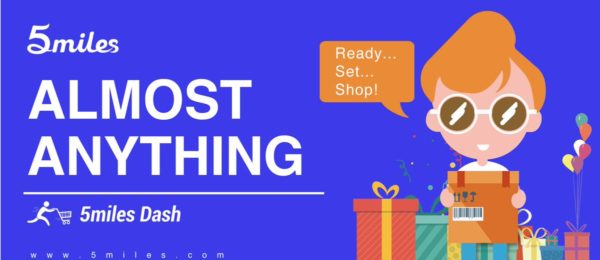 Download 5miles and Dash away!
Any more questions? Refer to our Help page: https://help.5miles.com/hc/en-us/categories/360001469294-5miles-