On 5miles bidding system, all bids start at just one dollar, and increase by one dollar. Whoever has the highest bid before time runs out, 'wins' the item.
Many of us have a competitive spirit, and in turn, we also enjoy winning. Sometimes we place wagers on which sports team we think is going to win a championship game, and other times it's as simple as challenging a friend to run 40 feet in a relay race, just to see who's still got it.
What if I told you there's another fun way to bid on cool stuff you actually want? Brace yourself because 5miles is the app for you! With 5miles, users are able to bid (for free!) on the various items that are sold on our site. Consumers can find anything from watches to handbags and shoes to bid on, all starting at one dollar.
Why 5miles Dash Bidding System?
DASH is a 5miles bidding system, which allows users to 'bid' on items of interest to them. All bids start at just one dollar, and increase by one dollar. Whoever has the highest bid before time runs out, 'wins' the item, and pays the amount that won the bid.
Bids happen constantly on the 5miles app, since there are always items for people to buy and sell online. Missed a bid on an item you really wanted? Don't fret! There will likely be another bidding option for a similar item soon, so remember to keep checking back for cool things to buy in the online auction!
How Does Bidding Work on 5miles Dash? 
Bidding is relatively simple. To guide you through the process, we'll list a step-by-step process of how to bid on your favorite items.

Find an item that sparks your interest! The item may be a new purse, a watch or even jewelry. Whatever it is, be sure you're ready to bid — because it moves fast!
Be sure to check the prices on the Bid tab before placing your bid. This includes the price of the item, and any shipping prices.
Once you decide which item you want and have reviewed the price, press the blue "Bid" button to enter the bidding process.
Tap the blue "Bid" button again to confirm your bid
Once you confirm your bid, you're up against other bidders who are also interested in the product you want, so be sure to keep an eye on it!
If anyone bids higher than you, their name will appear on the screen as "winning"
Watch the screen to see if anyone bids higher, if not your name should appear on the screen as "winning"
If you are winning as the first timer expires, a second timer will appear
To stay in the bid, keep an eye out for anyone who places a bid on the "Going Once" round
 If someone bids higher than you, that person will be "winning" the bid, unless you place a higher bid to "win" the item
If no one places another bid on the item, there will be a second timer which says "Going twice"
The same rules apply as above, however, the winner of this round 'wins' the item
 If you 'win' you're expected to pay the final bidding price within 24 hours

What's nice about bidding? You only pay if you win! So that means, each loss is actually a win since you'll have money to spend on the next item!
Here's some indicators to what each process of the bidding process means:
STARTING SOONmeans bidding will start in a moment. Watch for this to change to a BID button.
BID $_means you can place a bid for the item at the price indicated.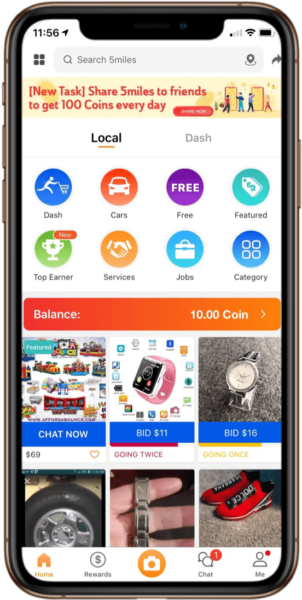 OUTBIDappears if someone has outbid you. You can try bidding again at the next increment.
WINNINGappears when you've successfully placed a bid and you're currently the highest bidder. Keep an eye on the item to make sure no one outbids you. If they do, you can bid again at the next increment.
The progress bar under the button is a countdown showing how much longer the item will be accepting bids, along with "Going Once", "Going Twice" notices to place another bid.
Congrats, You've Wonappears when you've successfully placed the highest bid and won the auction.
SOLDmeans that item has been won by the highest bidder and it is no longer accepting bids.
RESERVE NOT METmeans the item had a reserve price which was not met, and the item did not sell. The next item will appear shortly.
CLOSEDmeans the bidding time ended without a valid bid being placed and the item did not sell. The next item will appear shortly.
What is the Free Boost function, and How Does it Work? 
With 5miles, there are two markets to choose from: "Local" and "DASH." How do they differ? With the local market, users are able to buy and sell to each other within a five mile radius. All transactions are done offline and in person. DASH is based in China, where users sell various items that one can 'bid' on (explained above). Whoever 'wins' the item pays for it, and it will ship and be delivered within two weeks. So, what is the free BOOST function?
The Free Boost function is an opportunity for users to advertise their product on the homepage of the 5miles app. When you go to the items you're selling on the "Me" tab in the bottom right corner, you'll see the list of items you're selling. Next to each item, you should see a blue "BOOST" tab.
Clicking on the "BOOST" tab will advertise that specific product for free, for 24 hours. You can "BOOST" each item up to four times for free. After the fourth time, you will be prompted to pay to advertise your product.
As one can imagine, once your item appears on the homepage of the 5miles app, users are able to quickly find your product by scrolling, increasing your chances of selling that product.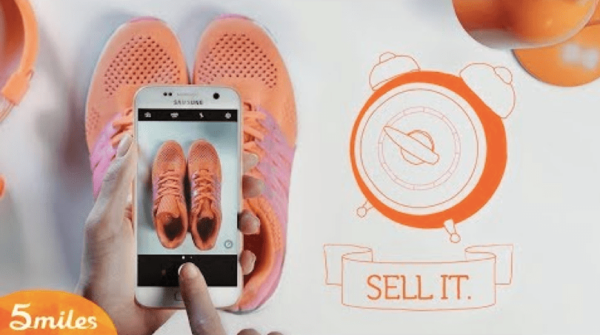 Users and consumers alike love using this option on our site because it's free, you can "BOOST" multiple times and it gives them a chance to actually sell their item and get money for it!
Because 5miles has the "BOOST" option on our site, we are ranked one of the most popular online marketplaces. Online auctioning and bidding make the consumer experience that much more fun!
So, what are you waiting for? Look around your closet for cool things to buy and sell — or just get rid of it for free! No matter what you decide to sell, there will be someone who is willing to buy it. Everyday there are new trends, so be sure to check out what's trending on the site today!
"BOOST," Right Here, Right Now! 5miles Bidding System
With the advantage of our bidding system, users not only get a chance to have some fun on the app and be competitive, but they have the opportunity to interact with other users, from all over the world.
Compared to other online e-commerce sites, such as Facebook Marketplace and Offer Up, users have access to a free advertising option with "BOOST," whereas other sites do not. So join in on the fun!
This is a great way to clean your closet, which may be long overdue, and use the funds you make to start saving toward something you've always wanted. With 5miles, the possibilities are endless.
Download 5miles App For Free and Start Bidding Now
Have some items you want to sell, or want to try out the 5miles bidding system on DASH? Download the app on your smartphone and get your bid started today! You'll find a plethora of items, both big and small, that you'll want to add to your inventory, guaranteed.
Remember, with 5miles, you can buy locally or through DASH, which is our online auctioning site in China, the 'home' of BOOST. Whether you buy or sell, we are sure you're going to love it! 5miles appis now available on Apple Storeand Google Play.

So, get on the road to selling, buying and loving your new items today!

To Bid or Not To Bid | 5miles Dash Bidding System