Black Friday has become as synonymous with Thanksgiving as turkey and stuffing. It's the day when Americans rush out to retail stores to take advantage of extreme discounts. What if you didn't have to fight the crowds because you actually had the money to buy what you want? 5miles is here to help!
5miles wants you to have your own sale! We're giving sellers the opportunity to make money by adding their items to the 5miles Black Friday sale! We'll be sending out a push notification letting you know when and how to participate. It's as easy as the following: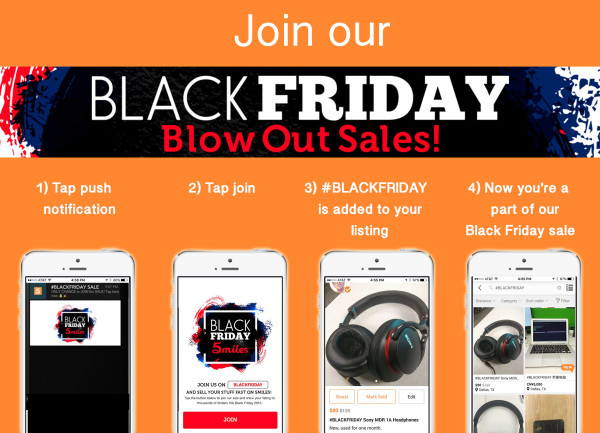 The next time you add an item to sell, you'll be able to tag your listing with with our Black Friday hashtag and get added to our Black Friday sale page! Buyers get to take advantage of excellent prices and sellers get to make some extra cash. It's win-win!
Keep an eye out for the notification and join our sale from the comfort of your couch on your mobile phone.
Make money & have your own Black Friday sale on 5miles!