Listen up, North Texans: this weekend we're doing our first ever "Flash Sale" in the Dallas-Fort Worth area. What are we talking about? Cars, cars, cars.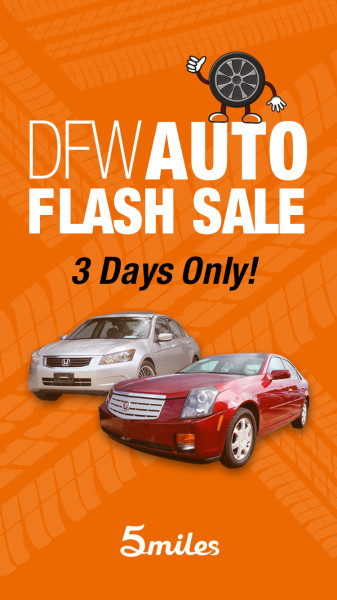 That's right, 5milers. We've partnered with 26 car dealers across North Texas — from Dallas to Fort Worth, Garland to Grand Prairie — to offer 168 cars at 10-15 percent off Kelly Blue Book value, exclusively for 5miles members.
Looking for a great deal on a fantastic car or truck? Then look no further this Thursday, Friday and Saturday than your 5miles app.
Beginning Thursday, when you search our marketplace for automobiles you'll see a special Flash Sale icon next to vehicles from participating dealers. Simply find the vehicle you want, message the seller, visit the dealer and you'll be good to go. But hurry! These deals will go quickly so don't miss your chance to drive away in a sweet ride.
More details to come!
Dallas-Fort Worth, have we got a Flash Sale for you!