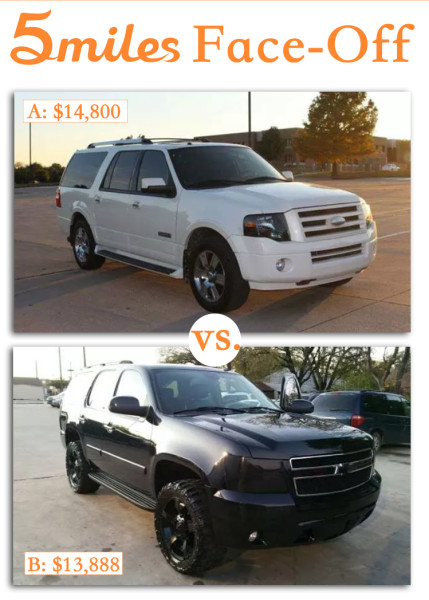 Here's a little taste of some of the great cars you can find during our sale. Which King of the Road would you choose in our 5miles Face-Off? The sophisticated but adventurous Ford Expedition or the elegant but tough Chevy Tahoe?
In case you missed it, we've partnered with 26 car dealers across North Texas — from Dallas to Fort Worth, Garland to Grand Prairie — to offer 168 cars at 10-15% off Kelly Blue Book value, exclusively for 5miles members.
The sale carries on from Thursday through Saturday and you can see more of the cars for sale by downloading the app and tapping the DFW Auto Flash Sale banner at the top of your feed. Simply find the vehicle you want, message the seller, visit the dealer and you'll be good to go. Don't let these deals pass you up! They're available for these 3 days only! There's never been a better time to buy a car!
And We're Off! DFW Auto Flash Sale Begins!