1. Fresh new categories.
We've cleaned up the categories and made them more useful. Also we've drawn some simplified illustrations for you. Check them out above.
2. Advanced search.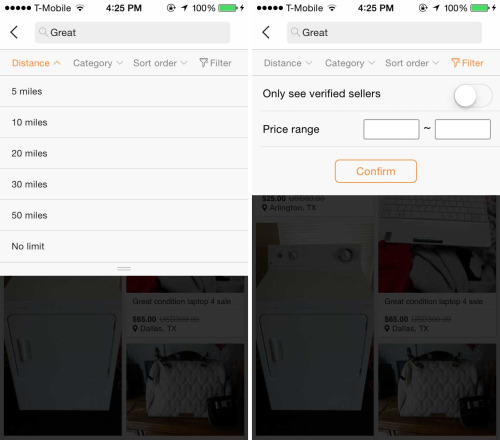 As as the number of new items every day is just exploding, a lot of people have asked for an easier way to search.
Now you can filter your search by distance, category, price, and whether sellers are verified or not. And you can sort the results by items closest to you, items posted most recently, or by price.
3. Browse without logging in
New users can take a look at all the great deals near them without becoming a 5miles user first. And when you see how easy the app is and you're ready to buy & sell, you can still easily join 5miles by signing into Facebook or entering your email address.
---
That's all for now. Tell what you love about the new version. Tell us what you hate. Tell us what you'd like us to work on next. Just find us on Facebook or Twitter and give us a shout. You can also reach us by email at hello@5milesapp.com.
What's New in 5miles 2.6 – 5miles Blog